Posted by: Lauren on Mar 19, 2012

Tagged in:

willam

,

stolen couture

,

sex and the city

,

RPDR

,

recap

,

pride

,

pauley perrette

,

latrice royale

,

kelly osbourne

,

keep your wig on ladies

,

his lipstick was blue jewels

,

harem pants

,

3/4 tshirts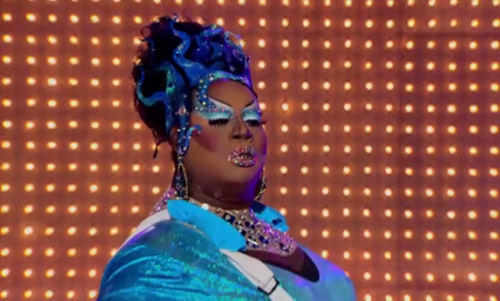 RuPaul's Drag Race: Float Your Boat
Last week, Chad Michaels blew us away with his dead-on Cher impersonation. Kenya Michaels was sent sashaying away for not knowing who Beyoncé was and for being incoherent. I can't say we'll miss her. Phi Phi was told to step it the eff up, and we are really over her.
The mini challenge this week is a wet t-shirt contest. The ladies each get a new silicone breast plate from some hilarious website that donated them. The contest is various degrees of frightening, and we see Latrice's blurred business. Latrice also does the freaking splits, which I am always impressed with.
The main challenge is to design parade floats and fashion-forward outfits for a Pride parade. As the winner of the mini challenge, Willam gets to assign the colours (which he does at random). As the ladies start to prepare their looks, they talk a bit about Pride and what it means to them to live in a time where dressing in drag is accepted (or at least not illegal). Ru mentioned the Stonewall Riots, which I wasn't familiar with. Apparently, in 1969 a police raid at the Stonewall Inn in Greenwich Village set off a series of riots where members of the homosexual community stood up to persecution from the police. Members of the drag community apparently played a big role in this, which is awesome.
Ru makes the rounds to ask about each girl's float, and Jiggly has no idea what she is doing or why. Dida Ritz is asked to bring her very best (which we may have already seen). Willam's float is covered in tacky star stickers with his face on it. He also stole a coat from the set of Sex and the City. Milan is working on a retro look, which Ru is concerned about because this is a fashion-forward challenge. Phi Phi talks about an abusive background, and her fresh start living the life she wants to live. She is apparently from Texas, which might explain why she had negative experiences as a drag queen when she was younger. I lived in Texas for 9 years, and while some of the people there are the most accepting and welcoming people in the world, still others take things in another direction.
Mainstage
Ru looks amazing in a gold draped wrap dress with awesome crimped hair. Michelle Visage and Billy B. are joined by special guest judges Kelly Osbourne (wearing a truly awesome bullet tiara) and Pauley Perrette (apparently from NCIS, and also a civil rights activist).
Chad Michaels: Chad Michaels is doing a sort of showgirl look in his pink boat. It is very feathery and bold, but perhaps not terribly fashion-forward.
Dida Ritz: Dida's boat really doesn't make any statement at all. It is just a red boat. Her look is ok. She is wearing some fun red harem pants that Ru loves, and her hair is vastly, vastly improved with a sort of Whitney/Tina crossover wig. The problem is that she is wearing a 3/4 sleeve t-shirt on top of those pants, and the shirt has ugly hearts drawn on it. It isn't good.
Jiggly Caliente: Jiggly seems to spend the first day of the challenge standing around. She doesn't have a concept for her boat, and her look on the mainstage is not good. She is wearing a bathing suit (which isn't the worst) that is covered by a weird cape with awkward cutouts in the seams. When asked to describe what she is doing, she just keeps saying that she is doing "San Tropez", as if that explains it. It doesn't.
Milan: Milan really struggles to make her boat and her look work this week. Her yellow boat doesn't really have a message. Her boat looks very homemade, and her look is just not great. She is wearing a big yellow wig.
Sharon Needles: Sharon is given a green as her theme colour, and she goes for a nature-inspired boat complete with a snake that is integrated into her costume. Kelly Osbourne loves her, as we would expect.
Latrice Royale: Latrice is BRINGING it. His lipstick is blue jewels! Michelle calls him out for wearing the same pair of boots a few times, but where is a large dude supposed to find other boots in size 15?
Willam: Willam's boat does look pretty damn good. He also does a cute thing where he drops an anchor and exits the boat. His look is an assless jean bathing suit (never thought I would write that), covered in the Carrie coat from Sex and the City.
Phi Phi O'Hara: Phi Phi finally has a good, put-together look and her boat is pretty nice too. The look is purple and futuristic and his make up is better than usual (which is all we can hope for).
Willam wins the challenge, and Latrice and Chad Michaels are also in the top. Jiggly is sent to the bottom, as is Milan (for the third time in a row). They must lip sync…..for their liiiiiiiives. During judging, Michelle Visage says "if (Milan) lip sync's tonight, and that wig comes off. My god. Stop it!". They are syncing to "Born this Way" by Lady Gaga. Hilariously, Milan does take off his wig during the syncing, and is sent sashaying away. Jiggly is asked to shante, and stay.
Hidden Gems
"Thank you god, for all this bod" - Perhaps the first time Willam has ever made me chuckle.


Sharon Needles has been wearing hilarious t-shirts all season long, and it is time I give them their due. This week she wears a half-shirt that says "Nixon Now". Earlier in the season she wore this amazing thing.


I also enjoy Sharon's desire to not be a fishy queen. She tells us: "I never want to create a character that someone would want to &%@!"


"I love Kelly Osbourne. Even to even get read by her, I don't care. That is an honour!"- Good one, Dida.


I just noticed that the girls use the same Singer sewing machines (for beginners) that I have. How awesome that we are the same. Threading that bobbin can be a bitch, amirite, ladies?


This week we learned why Jiggly always wears a hat. She is like really going bald, but has long hair. It is like a skullet, y'all.


"Oh my god. They are like goth lesbian hiking boots" -Kelly Osbourne on Latrice's much hated boots. They aren't good, to be sure.


A big thank you to reader Suzq who explained that "serving fish" means to look like a biological woman. The help is always appreciated!


Last word goes to the Peanut Gallery, as always. "You gotta have some mass appeal (and keep your damn wig on). This is a popularity contest, after all".
Comments
(0)
Subscribe to this comment's feed